Happy Cattery a Cats Only Haven

Truly Unique and Quite Exceptional Location for Cats Only Boarding! Only 10 Minutes from the Centre of Bristol and yet surrounded by 500 Acres of Picturesque Idyllic Farmland and Beautiful Open Countryside on all sides.
Set in its own Tranquil Secluded 2 Acre Haven over-looking the Private Country Estate of Leigh Court Manor and just three meadows from the west bank of the Avon Gorge.
Situated 1/2 mile down a Quiet Private Country Lane, far away from noisy busy roads, for your precious cats safety and contentment. In this Peaceful, Stress-Free environment, we are regularly visited by Woodpeckers, Squirrels, Herons, Rabbits, Badgers and Roe-Deer. So safe. So secure.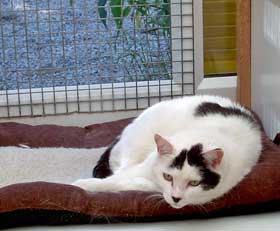 New, Superb Quality, Purpose Built, Brick Built, Secure, Protected Cattery. With Large Light and Airy, Full Height Spacious Boarding Pens, for Your Cat's Total Security and Safety. Built to The Latest Ministry Licensed Standards. Cosy, Comfy and Heated. Light, Bright, Hygenic and Very Very Clean.
Ideal for your shy cat as he or she will love the peace and quiet and calm of this loving, warm & friendly CATS ONLY dog-less haven.
A kind and caring welcome is assured for your dear pussy cat, with pleasant courteous professional service from on-site proprietor with more than 30 years experience.