All about the Happy Cattery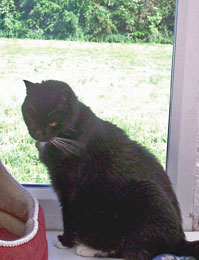 Why We Would Like You To Consider Bringing Your Precious Pussycat To HAPPY CATTERY
Your dear pussycat would be very happy here at HAPPY CATTERY because:
We are situated in a truly unbelievable unbeatable location, which is quite unique. It's a very unusual combination; convenient but remote. Totally surrounded on all sides by peaceful and pleasant pasture-land and farm-land and protected by LEIGH WOODS on the near horizon. All animals, both wild and domestic, winged and and fluffy seem to love the tranquillity, peace and safety here.
There are no roads, therefore no traffic noise and no traffic danger. No DOGS, therefore no barking and no dog scents to worry your dear cat. One can go into the cattery on an afternoon and you can literally hear a pin drop.
A lot of customers say that their pussycat has a nicer view here than they have on their holiday. So for your dear pet, it is beautiful, restful and safe. All of this and yet -
---
INCREDIBLY CONVENIENT FOR YOU TO GET TO
JUST 11 MINUTES FROM THE VERY CENTRE OF BRISTOL!
---
Another reason to bring your dear pet to us is that we really do love cats. We have four of our own, Torti, Sweep, Blackie and Cutie, although, very sadly we have only two left now, due to their old-age. We think all cats are wonderful innocent creatures , and must be cared for with love.
WE do hope to see you and your PRECIOUS PUSS very soon